be a neighborhood lighthouse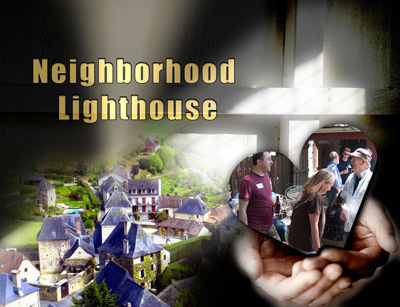 "You are the light of the world. A city that is set on a hill cannot be hidden. Nor do they light a lamp and put it under a basket, but on a lampstand, and it gives light to all who are in the house. Let your light so shine before men, that they may see your good works and glorify your Father in heaven."
- JESUS in Matthew 5:14-16
JOIN THE MOVEMENT!
A Neighborhood Lighthouse is a home in a given neighborhood or complex that commits to fulfill their calling to be Christ's ambassador to the area in which they live. We have created 4 easy commitments, a supportive network of fellow lighthouses, a Lighthouse Captain to assist and encourage you in your mission.
THE LIGHTHOUSE COMMITMENTS:
1. Walk through your neighborhood praying for your neighbors twice each month.
2. Practice regular random acts of kindness in your neighborhood.
3. Initiate and help develop a neighborhood event to bring all of your neighbors together and to help you build closer connections.
4. Develop a close friendship in your neighborhood so that you can relationally share your faith.
PRAYER WALKS
I urge you then, first of all, that requests, prayers, intercession, and thanksgiving be made for everyone. (I Timothy 2:1)

Prayer Walking Purpose
Perhaps you have been sensing an increased burden for those around you. Maybe you see signs in your neighborhood that are troublesome such as obscene graffiti or a house that seems to produce a lot of screaming or children that appear uncared for. Or maybe your neighborhood is picture perfect by all appearances but you happen to know firsthand the anguish and misery that lies behind closed doors. Maybe you know nothing about your neighborhood except that there are no other Christians. For all of these reasons, pray because your neighbors need the love of God.

What is Prayer Walking?
Basically, Prayer Walking is prayer that is targeted for the place you are walking. I believe the primary value of walking your prayers through your neighborhood may be that it connects you more closely with your neighbors. It takes you to where the needs are and with the Holy Spirit dwelling in you, it takes the power of God with you. Prayer walking
provides you with more focus for your prayers and gives you the
opportunity to observe and discern more about the people you are
praying for.

Intercessory Prayer
Prayer Walking falls under a category of prayer called intercession. Intercession is praying on behalf of others; bringing their needs before the Lord as if they were your own. A wonderful example of Intercessory Prayer in the Bible is when Abraham negotiated with God over Sodom and Gomorrah. The Lord revealed to Abraham that he was about to destroy these two great cities for their grave wickedness. Abraham interceded for them and got the Lord to agree that if there could be found as few as ten righteous people in the city of Sodom he would spare both Sodom and Gomorrah. (Genesis 18:16-33) If you don't know how this story turns out read both chapter 18 and 19 in Genesis.

Prayer Walking is Targeted Prayer
I said earlier that prayer walking is targeted prayer so the first thing you need to say to yourself if you feel interested is; what is my purpose? Exactly what do I want to see accomplished? This covers the "why" of prayer walking. In our case the answer to that question is that we want to see people come to know Christ and to follow Him.
EVANGELISTIC FRIENDSHIPS
Love your neighbor as yourself. (Mark 12:31)
Authentic Friendship
Nobody... I mean nobody wants a friend with an agenda. The most
important part of evangelistic friendships is that they are primarily
authentic friendships. Ask God to give you a genuine desire to know and enjoy this new person or family. It is also important to enter the new friendship without any judgementalism. Ask God to fill you with His love and grace for this new person or family.
Where to Start
1.
Start where you have something in common.
Maybe your kids play together, or you have seen this neighbor at events you have attended.
2.
Be where they are.
Be in the yard when they are. (In general, build the habit of spending time in your front yard to become accessible to your neighbors.) Go to the park with your kids when you see them there. Instead of just waving as you (or they) get out of their car, go over and chat briefly. Ask them to borrow a tool or ingredient you need. (This can disarm them and build an unexpected bridge.)
3.
Be and inviter.
Invite them to join you in the things you are already doing: a class you are taking, a hobby you enjoy, an event you are going to, a dinner out (a restaurant might seem more neutral), a shared meal (Summer BBQs are great), your child's birthday gathering. Invite them to a worship gathering only when you have an exisitng friendship and when you can be there with them, sharing lunch with them after the gathering or coffee/breakfast before.
Care for Your Neighbors
Look for needs in your neighbors life that you can fill or help with. The best way to minister God's love to your friends is to care for them with the same commitment and compassion that Christ did. Warm-hearted acts of kindness bring open-minded conversations.
Share Your Faith
The more time you spend together, the more opportunities God will provide for you to share your faith. You can offer to pray for them when they face a struggle. You can tell them how God has helped you when they share questions or concerns that are familiar to you. You can tell them how you became a Christ-follower when they find out you are a Christian. They will eventually ask about your church and you should use that opportunity to talk about your relationship with Christ instead of your commitment to church.
For ideas regarding neighborhood events and random acts of kindness, contact Scott